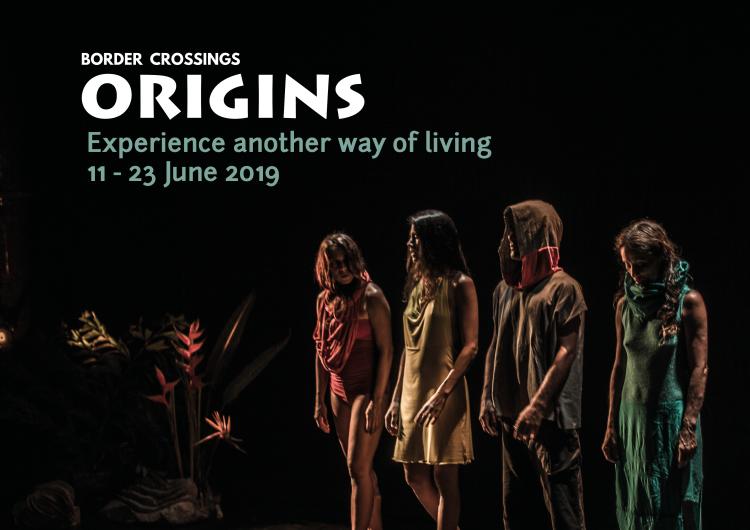 ORIGINS 2019
Multi-disciplinary
Southbank Centre, Shakespeare's Globe, British Library, The Place, Rich Mix, Westway and others
"After thirty five years rolling in Festivals through the world finally we felt we arrived to our home at ORIGINS."  (Oscar Naters: Artistic Director of GRUPO INTEGRO)

"It was amazing! It filled up my head with so many new and interesting thoughts and let me see the world, especially the Native part, with different eyes." (Audience comment on WHERE WE BELONG)

"An intuitively shaped, subliminal spiritual spectacle… marked by wisdom and beauty." (Donald Hutera in RunRiot on INO MOXO)

"To live without spirit is to sleep without dreams and wake to oblivion." (Prof. Helen Milroy – The ORIGINS Lecture)
During its 10th anniversay season in 2019, Border Crossings' ORIGINS Festival celebrated the world's First Nations in a two-week summer explosion of art, performance and debate, offering a unique opportunity to engage with Indigenous artists and activists at the cutting edge of cultural resistance, environmentalism and spiritual tradition.
Highlights included a journey up the Amazon to find the legendary Ayahuasca shaman INO MOXO,  an encounter with Inuit culture in NO WOMAN'S LAND, history being made when Mohegan theatre-maker Madeline Sayet performed WHERE WE BELONG at Shakespeare's Globe, a celebration of WESTWAY SOLSTICE with a huge community dance performance, and much more....
Working with some of the most significant cultural institutions in London, ORIGINS 2019 brought the world's Indigenous artists and cultures to the heart of the capital.