Image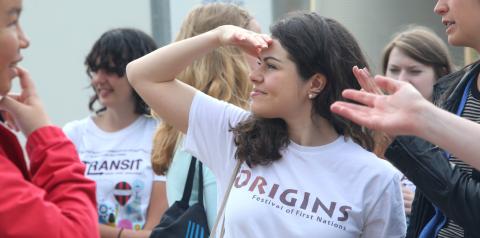 There are always exciting opportunities for volunteering at Border Crossings!
Border Crossings' ORIGINS Festival always has a volunteer group, who have the opportunity to host the visiting Indigenous artists, and to provide the public face of the Festival for our audiences.  There are often opportunities to get more fully involved in the community work that accompanies ORIGINS, for example as an Oral History interviewer, a gardener, or in web development and video editing.  Our volunteers learn important new skills, meet incredible people, and have a lot of fun!
Our ORIGINS volunteers say:
Initially daunted by the prospect of such a large project I gradually gained in confidence and competence.  I am proud of the end result!
I have learnt a huge range of  skills which I am  now taking forward into the professional arena!
I've learned that this kind of work is possible.  It reinforced my sense of its importance, too."
I have really fond memories of those few weeks and often think back to the power in the work and what an amazing thing it was to be able to be a (very minimal) part of."
For our theatre productions, there are often opportunities to volunteer in backstage and front of house roles, and we have often hosted student placements in our office, for example as part of MA courses in Arts Administration.  One Erasmus + volunteer, Zeynep Incir from Turkey, wrote:
During my time in the office, I have learned about publicity, fundraising and mechanics of a non-profit theatre company. I got the chance to have many conversations with a wise and committed artistic director, Michael Walling, about his work and theatre making...  Although Michael is the heart of the company, he is aware of the vital importance of the collaborative work and will make you realise it. So I found my internship period quite productive because I was in an environment where my opinions and thoughts were valued and respected."
As a registered charity, our board of trustees are all volunteers too!
If you'd be interested in joining our volunteer programmes, please get in touch with Lucy: lucy@bordercrossings.org.uk