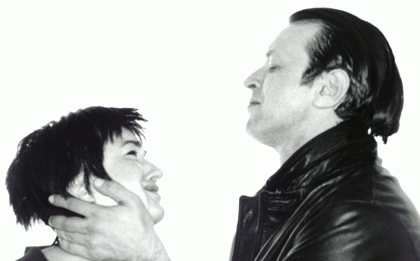 DOUBLE TONGUE
Theatre
Tours of Hungary and UK (2002), Old Red Lion (2001)
"Viscerally real and complex..... thought-provoking and potent."  (Time Out)
Sex, guns and language tapes - Brian Woolland's play from 2001.
Hungary. April 1999. NATO is bombing Kosovo and Serbia. Robert Lee, a young American researcher, is travelling through Eastern Europe. In Budapest he enrols in a language school and becomes obsessed with Anna, his language teacher. They embark on a passionate sexual relationship. When he goes to visit her home town of Szeged, close to the Serbian border, he is drawn into a dangerous and terrifying underworld in which he is forced to confront the other men in Anna`s life: James, an English art dealer, and Milan, a Serb with scores to settle and deals to close.
Sexual obsession, political intrigue and shifting identities lead to an eruption of brutal violence - which forces Robert to confront aspects of his own identity that he would rather ignore. The sound of NATO Chinooks echoes through the night. A black male prostitute and an icon of a Black Madonna go about their strange business.
Who is watching? Who is waiting?
"Really outstanding....  one of the most effective and thrilling plays around."  (Camden New Journal)
DOUBLE TONGUE was commissioned with an Arts Council New Writing Award and was originally presented as part of the European Year of Languages 2001 at the Old Red Lion, before going on to tour the UK and Hungary in 2002.
BRIAN WOOLLAND discusses the play with Dr. Roshni Mooneeram
TERESA MURJAS - an article on the play, its background and the Border Crossings production
FULL REVIEWS - from Camden New Journal and Time Out
The text of DOUBLE TONGUE is available from the Bookshop.