The Border Crossings production of DOUBLE TONGUE - by Teresa Murjas
Image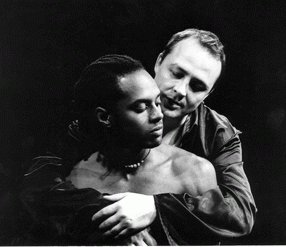 Border Crossings, an intercultural theatre company based in London, focuses its work on the exploration of cultural interaction. Founded in 1995, it has always been a company that actively encourages processes of transition and translation in theatre and performance. The company has a variety of working strategies, including commissioning playwrights to develop play texts and developing work through the collaboration of artists from different cultures. The principle that unites all of the working methods of Border Crossings is the belief that some level of collaboration is always necessary. Such a commitment to collaboration facilitates theatrical productions that dynamically embody multiple perspectives and diverse voices.
After receiving an Arts Council of England New Writing Award, Border Crossings, in association with the Hungarian Cultural Centre, commissioned DOUBLE TONGUE for inclusion in the 2001 European Year of Languages festival. Written in English and Hungarian by Brian Woolland, a Lecturer in Theatre at the University of Reading, the piece was first presented at the Old Red Lion, a fringe theatre in London, on June 19, 2001.
In autumn 2002, the production was revived, with some revisions to the script, for a tour in Hungary and the UK. The tour, also funded by the Arts Council of England and the Hungarian Ministry of Culture, was launched on September 17, 2002 at the Old Synagogue in Szeged, Hungary. DOUBLE TONGUE was performed in English, Serbian and Hungarian by an international cast, which included Hungarian actress Krisztina Erdelyi, Serbo-Croat actor Serge Soric, and English actors Ben Pitts, David Farnworth and Arnie Hewitt. It was directed by Michael Walling and designed by the Japanese artist Kimie Nakano.
Set in Budapest and Szeged in spring 1999, the time of the conflict in Kosovo, the dramatic action of DOUBLE TONGUE unfolds within a very charged political context. Important political developments were taking place in the Balkans at this time. On March 12 of that year Hungary joined NATO. Roughly two weeks after Hungarian accession, NATO launched its bombing campaign on Kosovo. The ethnic Albanian guerillas of the KLA called for NATO to send in ground forces in order to protect Albanians and expel the Serbs. The Hungarian Republic answered affirmatively to a request by NATO to allow military aircraft to fly through its airspace and take off and land on its territory. Debate raged. Hungary's role in the war was to be one of passive support for intervention. But speculation was rife that NATO may attempt to involve the country in a more complex way by launching a ground attack from its territory. Szeged swarmed with foreign and local journalists seeking a safe, NATO-guaranteed base from which to report the events in Yugoslavia. Hotel reservations were up from fifty to seventy percent. Many journalists set up their equipment on the rooftops. As in many violent situations, money started flowing where shots were fired.
This is the historical and political context around which DOUBLE TONGUE develops and from which dominant themes and dilemmas emerge. The play explores a set of evolving relationships between five characters and a religious icon, showing how the confrontation and mutual interpretation of six constructed identities can lead to an explosion of aggressive drives fuelled by desperation. Though the action takes place in 1999, the play reflects a broader conflict with deep historical roots.
A compassionate and politically astute play, DOUBLE TONGUE juxtaposes differing perspectives. The written text serves as the basis for a multi-media performance, in which recorded voices and images interact with onstage action to form a carefully constructed visual and aural polyphony.
Woolland titles each of the scenes that comprise DOUBLE TONGUE a "unit." This is done to highlight the structure of the play, which parodies (and exploits) that of a Hungarian language-learning tape with the audience placed in the role of the pupils. Presented in three languages, English, Hungarian, and Serbo-Croatian, actors are often required to convey action to members of the audience who might not fully comprehend all that is spoken. The result is the presentation of a variety of encounters where communication and concealment, arousal and provocation are thrown into sharp relief.
The piece lends itself toward fragmentation; events in multiple locations appear simultaneously in the theatrical space. The language tape is rewound in order to facilitate different linguistic emphases. Dominated by the central image of Szeged-a city balanced precariously on the knife-edge of a border-the divided setting evokes an atmosphere of duplicity, ambiguity, indecision, and uncertainty.
Story lines of different characters are intertwined. Robert, an American Ph.D. student unable to speak any Eastern European language, has come to Eastern Europe to study religion after the fall of communism. Assuming the political changes are over and that his academic subject is abstract enough to place him outside of politics, he believes that his position as researcher guarantees him neutrality in any conflict. Robert finds himself a translator, Anna, and they begin a love affair. Anna has complex relationships with three other men in the play. One of them is James, a British art dealer who uses Anna's language school as a respectable front for money-laundering activities and trade in religious icons. Another is Milan, a well-traveled and educated Serb whose plan for stopping the conflict in Kosovo involves the use of a British rifle. Finally, there is Anna's father, whom the audience never sees. He is aging and increasingly senile-a survivor of the Belsen concentration camp.
The character James takes advantage of his status and income as a Western dealer in cultural goods to pay for sex with the character B, an androgynous black prostitute, his epitome of a desirable exotic artifact. B is so desirable, in fact, that James attempts to purchase B from a pimp, whom he automatically assumes has connections with the Russian mafia. When B arrives battered and bruised at Anna's apartment in Szeged, things come to a head.
The significance of B's otherness, epitomized by James's perception of B as cultural artefact, is accentuated by the double-casting of the actor playing B as the icon of the Black Madonna. Black Madonnas, which have been discovered all over Europe, are often regarded as miraculous and venerated by members of the Catholic and Orthodox churches. The icons are believed to have turned black as the result of accumulated smoke from votive candles or the deterioration of lead-based pigments. Throughout the play, legends are related about the Madonnas. Woolland embodies a stolen/rescued Bosnian icon in the character of the Black Madonna and gives her a voice, one frequently laden with irony. Both B and the icon, given the blackness that constitutes their otherness, are subject to aggressive stereotyping according to the racial and cultural prejudices of the time and place. They recall numerous other victims of European intolerance and genocide.
The character of Milan, after humiliating Robert sexually, is marked by his fanatical desire to label the American scholar an imperialist colonizer, a sinister caricature representative of his nation. Robert loathes Milan, while at the same time feeling sexual attraction toward him. His conscience has perhaps been aroused. Could he really be the embodiment of the American cultural tourist? Anna loves Milan so intensely that she fears the impact of his bigoted point of view. In an attempt to assert her own sense of power, she makes a cruel show of humiliating B. James struggles to maintain a stiff upper lip, but even his meticulously tailored sophistication and understated machismo begin to unravel. All these opposing tendencies contribute to what seems to be a breakdown in communication.
Robert, the man who appears to be the least dangerous of the group, is the first to kill. Cornered, he strangles Milan in an absolute frenzy; then Anna, revealing more about herself through aggression than she ever did in conversation, shoots Robert. Identity becomes fragmented, ambiguous, and fluid. Violence reveals itself as the last resort.
In this horrifying denouement resulting from the clash of multiple perspectives, the audience confronts the dead, wounded, and defiant. The audience is left with the dead bodies of an American and a Serb, the two wounded bodies of a Briton and a black Hungarian, and the defiant stance of a Jewish Hungarian woman wielding a gun as she defends her flat. Those who have killed are not necessarily those whom one would have expected to become killers. The woman who in varying degrees sanctioned the men's incursions into her territory ultimately realizes her need to act.
While touring DOUBLE TONGUE in Debrecen and Budapest, Border Crossings observed what seemed to be reoccurring audience identification with the complex political and emotional nuances of Anna's unfortunate predicament: spectators often had unrestrained vocal reactions to performances. The same response took place when Hungarian speakers comprised a significant portion of the UK audience, a frequent and celebrated occurrence. The director, Michael Walling, observed that identification with a given character was signalled most overtly through laughter. Different cultural constituencies within an audience often expressed reactions of amusement at significantly different moments of the performance. In Szeged, where the play is set, some audience members understood all three languages to varying degrees, leading to a high level of spectator participation. Linguistic and political tensions in the auditorium were reflected both onstage and in the house.
Language was only one element affecting audience response when DOUBLE TONGUE was performed in Hungary. The play's concern with the politics of the region and a war that had only recently ended gave the performance a tremendous immediacy. Walling suggests that to an English audience the play may reflect the way in which the NATO powers interfere in countries and cultures they do not truly understand, highlighting the feeling that "the madness, which ensued was somehow of their making precisely by not really engaging with the situation." The feeling in Hungarian cities, however, was quite different. Walling explains, "In Szeged the audience had lived through that madness very recently, and the play became about revisiting the dangerous areas of their own lives. The audience in Szeged laughed throughout the play, including during the concluding bloodbath, which had been totally the opposite of comic in England."
Teresa Murjas teaches in the Drama Department at Reading University. This article originally appeared in Slavic and East European Performance, edited by Daniel Gerould and published by the Martin E.Segal Theatre Center in New York: Spring 2005.