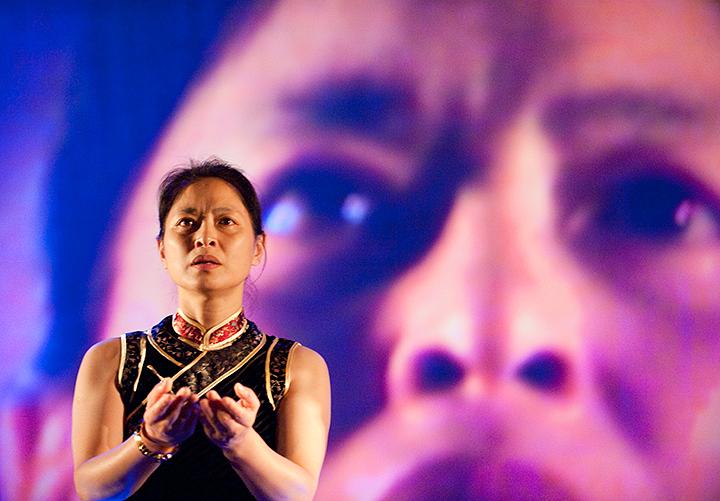 RE-ORIENTATIONS
Theatre
Tours of UK, China and Sweden
"A deeply felt, powerfully performed, beautifully staged production." (Londonist)
After the storm, the survivors attempt to build a future. 
A Chinese baby is abandoned by the roadside. Two Swedish actors play out sexual dramas, both onstage and off. Former banker Marie Lucas battles with tsunami relief in India, until an unexpected phone call shatters her world as the characters' lives collide across continents.
"Impressive, bold in ambition and fluid - like Robert Lepage on a teeny budget.  There are exquisite moments....  a terrific scene milking the comedy of cultural confusion." (Guardian)
Created in collaboration with partners from China, India, France and Sweden, RE-ORIENTATIONS performed at London`s Soho Theatre, at Shanghai Dramatic Arts Centre as part of Expo 2010, and on tour in Sweden.
"Stunning imagery collides with a powerful physical style and vivid storytelling in this multi-cultural and multi-media explosion of East-meets-West." (Spoonfed) 
With the support of the Cultural Programme of the European Union, Arts Council England, the Commonwealth Foundation, the Swedish Embassy in London and the British Council`s Connections through Culture programme.
"Lives and cultures collide — sometimes violently — in this kaleidoscopic drama....  intersecting stories set against a backdrop of hectic, often striking visuals.....  rich texture in the imagery." (Times)
Click here for Michael Walling's programme note for the Shanghai performances of RE-ORIENTATIONS
The texts of THE ORIENTATIONS TRILOGY are available from the Bookshop.
Image