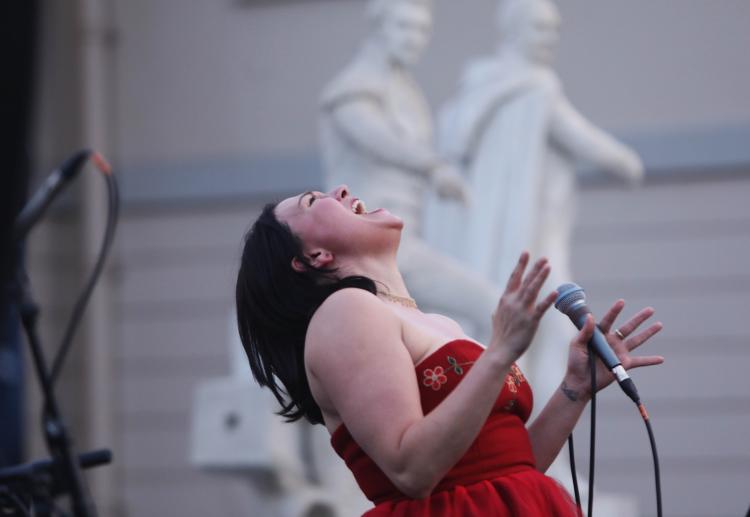 ORIGINS 2017
Multi-disciplinary
Rich Mix, The Place, National Maritime Museum, British Museum and others
"Commanding, terrifying & often mindbogglingly beautiful" - Radiant Circus on TANYA TAGAQ
BORDER CROSSINGS' ORIGINS FESTIVAL 2017 offered an electrifying two-week programme of art, spectacle and discussion: a unique opportunity to engage with indigenous artists, intellectuals and activists at the cutting edge of cultural resistance, environmentalism, and spiritual tradition.  
Highlights of the programme included:
VOU dance company from Fiji with their remarkable response to climate change, ARE WE STRONGER THAN WINSTON? at The Place.
An emotional new production of Wesley Enoch and Deborah Mailman's Indigenous Australian classic THE 7 STAGES OF GRIEVING, starring the marvellous Chenoa Deemal.
Cliff Cardinal's raw, gritty and grimly humorous HUFF - a Native Earth production portraying young people's lives on the Reservations.
PROFESSOR MARCIA LANGTON, Australia's leading indigenous scholar, giving a lecture on the social and cultural role of Festivals.
Film premieres including WHITE LIES from New Zealand, THREE WISE COUSINS from Samoa, CHASING THE LIGHT from the USA, SPEAR from Australia and JOHOGOI AIYY from Sakha in the Russian Arctic.
The great Inuk throat-singer TANYA TAGAQ performing a soundtrack to NANOOK OF THE NORTH, live at the National Maritime Museum.