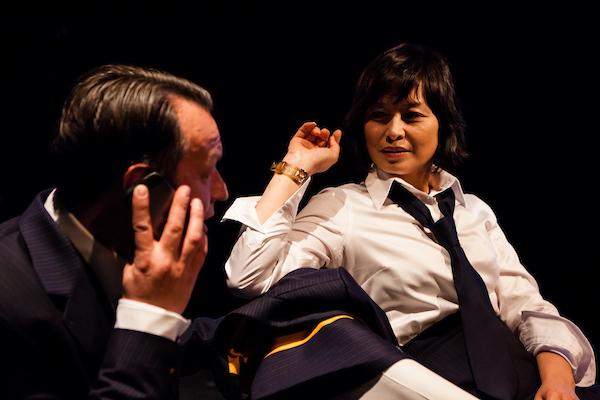 CONSUMED
"Layers of significance suffuse this devised multimedia play, like the meaning in a Chinese pictograph.....  
... Song Ruhui is an outstanding presence, exuding.... beauty, intelligence and sensitivity…..   Border Crossings has cannily placed itself on the progressive side of history and represents one powerful way forward for East Asian themes and actors."  (Morning Star) 
Sex, money and the world wide web.
2013. After more than 20 years in the US, Tong Zheng returns to Shanghai with money on his mind. But the China he finds is very different from the one he left behind.
A strange love story in a virtual world.
Powerful, witty and visually stunning, CONSUMED brings together technology and heartbreak in a story that is both personal and global.
"deeply modish…..  stylish and illuminating…..  
... The piece's multimedia approach is brilliant at evoking a specific climate, built from, not just suffused with, technology" (Exeunt Magazine)
A co-production with Shanghai Dramatic Arts Centre and Tara Arts, supported by Arts Council England, CONSUMED was devised in Shanghai in 2012, and toured the UK in the Spring of 2013.
"CONSUMED is a multimedia feast…..  
... The stillness in each cast member lends an edge to the performances which is hypnotic…..   Michael Walling and his cast have devised a show that is distinctly Chinese and.… utterly unique" (The Stage)
PROPELLER TV - a documentary about CONSUMED (links to video)
CONSUMED -  a dedicated blog
THEATRE VOICE - Michael Walling discussing CONSUMED with Suman Bhuchar (links to audio)