Image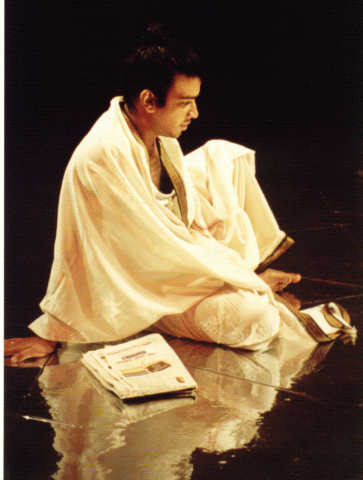 Time Out
It's a long journey from London dance classes to a Bangalore hijra house - home for these quasi- religious "third sex" dancers who live, half-feared, half-venerated on the fringes of Indian society. The geographical distance, however, is nothing compared to the personal one. For Amrit, a student sent to Britain to study, the revelation of the female dancing style of Yakshagana upsets his entire life. He leaves behind a girlfriend to find stardom and then violence back home in India, before finally accepting his true nature as a woman, undergoing castration to become a hijra.
This is a rich theme for Border Crossings and conceiver / director Michael Walling, and he and his team match it with a versatile production, as many-limbed as a Hindu god. Video, baroque music, episodes of Hindu mythology, and, of course, dance, traditional and contemporary, are all used to tell or reflect on Amrit's story. Our entry to it all is Linda, his abandoned British girlfriend, who travels to India in the naive hope of finding him. 
Border Crossings' style, so open to varied ways of showing and telling, shows the influence of Robert Lepage. And the participation of Radhakrishna Urala, a true Yakshagana performer, acts as a guarantee of authenticity. 
Jonathan Gibbs
23rd November 2004
Whats On
The origins of ORIENTATIONS lie in last year's workshops by director Michael Walling with South Asian community groups exploring the themes of gender and sexuality. The resulting play was workshopped in Bangalore and then here with the Naz Project London, which helps those with HIV / AIDS in minority ethnic communities. It's currently on a UK tour. 
The piece begins at a dance class where Amrit, a young Asian dancer, is entranced by the folk theatre form of Yakshagana, where men traditionally perform the female roles. Appearing to ignore his lover, Linda, he suddenly disappears to India. Linda follows without knowing why he has fled. She meets his family who still think that he is studying in London. Linda then goes on a journey of discovery about India, Amrit, and issues of prejudice against herself and the Asian transvestite theatre tradition. 
The Yakshagana form is a celebration of the myths of India through dance, dialogue, song, costume, wigs and make-up. This is what appeals to Amrit who, when he dances, is a woman - he's not a man pretending to be a woman but really feels he is a woman. His true desires come into play and only by succumbing to them can he be happy. 
The piece is part mystery, part comedy and part social and psychological study. The cast of five are exellent. In particular, the enigmatic and hypnotic Radhakrishna Urala, who is a Yakshagana performer. 
Michael Darvell
23rd November 2004
Metro
Image
Dance student Linda (Roisin Rae) has fallen for her classmate Amrit, who excels in Yakshagana, an Indian dance in which the dancer represents both male and female characters. When Amrit disappears, Linda heads to his home town, Bangalore, setting in motion a challenging exploration of gender roles against an Indian and Western backdrop. 
Linda's quest is interwoven with dream sequences relaying the blurring of genders in Hindu folklore, through Yakshagana dancer Radhakrishna Urala's exquisite portrayal of a half man / half woman Hindu deity. And from Amrit, the dancer forever playing male and female roles, we hear the torment of being caught between genders: "When I dance, I am a woman". 
As we hurtle towards discovering Amrit's fate, the question "Are we either male or female?" is brought into sharp focus by this thought-provoking tragi-comedy. 
Rahul Verma  
22nd November 2004
The Stage
East meets West in a state of sexual confusion. Roisin Rae plays dance student Linda, in love with fellow pupil Amrit, captivated by his delicate skills in female roles. But when he suddenly leaves London for India and fails to return her calls, she flies to Bangalore to track him down. 
This richly exotic entertainment, led by Radhakrishna Urala as Amrit and devised by the company, crosses many borders with ease. Linda spends a night of lesbian passion with a Hindu hooker played with enchanting grace by Paven Virk. Eventually she meets Amrit on a train, only to discover that through the power of Yakshagana dance, he has discovered his inner woman and become a transsexual.
Michael Walling's production effortlessly combines high quality movie and still images with live action, Indian dance rhythms with Handelian castrati. Even the 12-year-old Mozart - Rae cross-dressed in 18th-century costume - makes an appearance, being patted on his head by father Leopold as he memorises a sacred oratorio. And there is an undercurrent of Indian legend and spirituality, punctuated by Rae as a swaggering English milord.
To this melting pot of talents and cultures, Border Crossings also add actor and counter-tenor Peter Luke Kenny as a talent scout with a roving eye, whose attempts to seduce Gurpreet Singh's transvestite dancer, swathed in silks, ends with the unlooked-for bliss of a kiss.
There are chilling moments, strong language, explicit references to oral sex and even a murder. But the evening delights rather than disturbs. 
John Thaxter
24th November 2004